CAMP APPLICATION!
| | |
| --- | --- |
| Please use the parent/Guardian's email address, as that's where we will be emailing you the Release Forms/Confirmation packet when you sign up. | |
| | | | | |
| --- | --- | --- | --- | --- |
| Your T-Shirt Size (adult sizes): | S | M | L | XL |

How are you getting to Camp? By Car By Plane


How did you find out about our camp?


Are you coming to camp to ski or snowboard?
SKI SNOWBOARD

What is your ability level? ADVANCED INTERMEDIATE
# of years Skiing or Snowboarding



SKIER OPTIONS
SKI RACING
I WANT TO LEARN TO SKI RACE

(all sessions)
I WANT TO SKI RACE FASTER!
(all sessions)

RACING EXPERIENCE:
USSA NASTAR NONE
HIGH SCHOOL JV TEAM
HIGH SCHOOL VARSITY TEAM
ACCOMPLISHMENTS:
(tell us the highest point or result in your career so far)

MOGULS

(only availiable with summer sessions)

I WANT MOSTLY BUMPS, JUMPS
and MOGULS


FREESKI


I WANT TO LEARN TO FREESKI,
JUMP & SPIN IN THE TERRAIN PARK.





SKI BETTER
I WANT TO LEARN TO SKI BETTER

I prefer:
INTRO TO RACING/CARVING
INTRO TO MOGULS/SMALL JUMPS
SNOWBOARDER OPTIONS
SNOWBOARD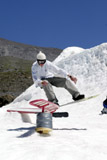 FREERIDE
I WANT TO LEARN TO SNOWBOARD
(beginners are allowed
sessions 1 thru 6 only)

RIDE BETTER IN THE PARK and HALF-PIPE
FREERIDE/ALL-MOUNTAIN RIDING


SNOWBOARD RACING

I WANT TO LEARN TO SNOWBOARD RACE

I WANT TO SNOWBOARD RACE FASTER! (Snowboard racing is offered sessions 1 thru 6 only)
Summer 2022
Summer Dates
Session
Cost$
1st
$1895
2nd
$1895
3rd
$1895
4th
$1895
5th
$1895
6th
$1895
7th
$1895
8th
$1895
9th
$1895
10th
$1895
Adults Only
$1895
Park Fee
$150
Day Early
$250
Notes: (Roommates, special diet, coaching only....)



Review your selections
Camp Cancellation Policy
The $50 deposit to reserve camp space is non-refundable. Camp cancellations made 30 days prior to the start of your session will receive a partial refund, your account balance less the $50 deposit. All cancellations must be submitted in writing and postmarked 30 days before the start of your session. There are NO REFUNDS after the deadline.


Method of payment:
(a minimum $50 non-refundable deposit is required for each session selected)
Check (Payable to MHSSC)
Visa \ Mastercard \ Discover (American Express add 3%)
Card #
CVV# ?
Expires
Amount $

Min $

0

Total Due $

0

Name on Card