TOP 10 REASONS TO COME TO CAMP!
#1: Skiing/Snowboard in the summer is amazing. It's sunny and reasonably mild for roughly 80% of the days in a typical summer. You get to ski without battling the typical elements of winter.
#2: 40+ years of experience. When you come to MHSSC, you know that we've been at this a long time. We've learned from trial and error on how to provide an amazing camp experience for our campers.
#3: We are the most affordable summer ski/snowboard camp there is. We are in the BUSINESS OF MAKING BETTER SKIERS AND SNOWBOARDERS. Some of the other camps are in the business of making lots of money in a short period of time. We operate year-round, so our overhead is spread out over 12 months (as opposed to being crammed into 2 months of the summer). We aren't paying pros big bucks to fly in for one session. We've been doing this for 40+ years so we know how to do things efficiently and at lower costs.
#4 Amazing Afternoon Activities. You take away the skiing/snowboarding from MHSSC, and you still have awesome summer camp type activities to choose from. White water rafting, rockclimbing, trampoline, paintball, mountain biking, field sports, zip-line/log-walk, cliff jumping, hiking etc. .
#5: 2 big lodges/excellent meal program. Lots to do at camp with on-site trampoline, skate ramp, soccer field, basketball hoop, pool table, ping-pong, foosball, air hockey, slackline. Buffet style breakfast and dinner with tons of choices for the picky eater. Free wifi.
#6: Video review. We do a ton of video analysis as part of the coaching/teaching. We are the only camp at Mt Hood with exclusive rights to set up 4 TV/Video stations at the top of the Palmer chalirlift inside the lift terminal. So our campers get instant ON-MOUNTAN video feedback from their training. With this type of immediate visual on-hill feedback, everything is still fresh in their minds on what they need to work on for their NEXT RUN.....vs having to wait 24 hours. .
#7: We are the only camp open from Memorial Day weekend all they way until Labor Day weekend. Our campers have 14 week-long sessions to choose from. We realize people have varying schedules in the summer months, so by being open the whole summer, we have a session for you.
#8: GREAT COACHES! We hand pick our all-star staff, many of which have worked at MHSSC for several years. They are dedicated to helping our campers improve each day and get to their next skill level by the time they go home.
#9: MHSSC has something for everyone! We are the only camp that offers training for ski racers, mogul skiers, freeskiers, snowboarders and snowboard racers. Say you are a ski racer, but your best buddy is a snowboarder......you both can come to our camp and get to do what you came for. Then hang out the rest of the day together as good friends do.
#10: FUN FUN FUN. Not only do our campers improve their on-snow skills, but the whole camp experience is just plain fun. Go check out our testimonial page to see what some of our past campers have said about their experience at Mt Hood Summer Ski Camps.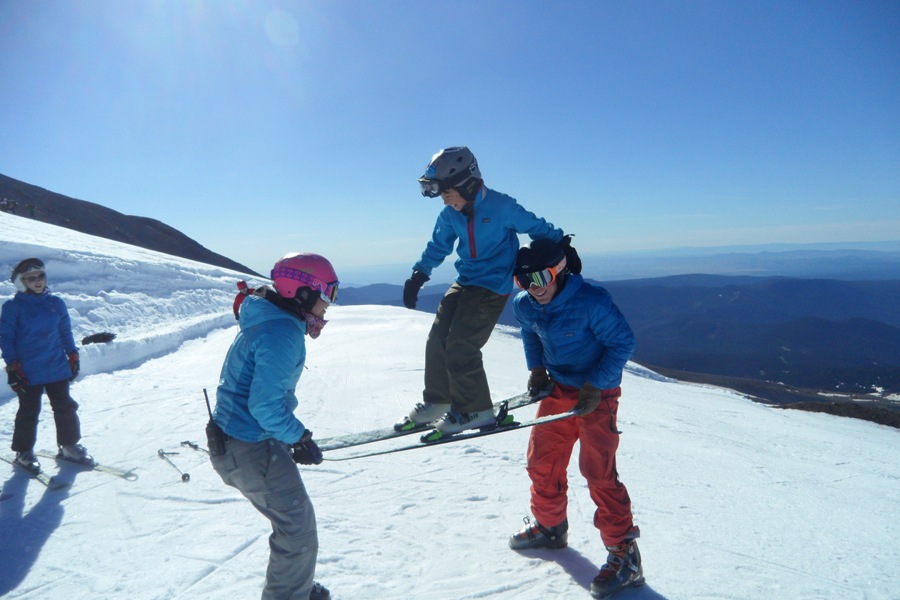 Add yourself to the MHSSC hot list!!
Give us your email address so we can send you late-breaking information about camp.