FREQUENTLY ASKED QUESTIONS
Click on the question, to open up the answer.
#1. What should I bring to camp?
Hat, goggles, gloves, swimsuit, underwear, sunscreen (#15 or higher), towel, socks, water bottle, jacket, shirts, backpack, jeans, helmet, rain gear, shorts, personal toiletries (toothbrush, shampoo comb, etc.), sneakers, sweatpants, sweatshirt, pajamas, camera, sunglasses with UV protection, sweater, neck gaiter, skis or snowboard, boots, ski poles. Please put identification on all of your belongings. The best way to prepare for skiing on Mt Hood is to wear many layers. Air temperature is usually between 20 and 35 degrees in the morning when we start up the lifts and warms to around 65 degrees when we are done on the hill in early afternoon. Your backpack needs to be big enough to hold all those layers as well as a lunch and a water bottle. You should bring $50 - $75 extra spending money per each session for things like souvenirs, snacks, (there's a gas station store next to our camp lodge) and some afternoon activities. 
#2. I have a 9 year old who's never flown alone. What's the procedure for picking up young children at the airport?
Each airline has their own set of procedures and age requirements when dealing with unaccompanied minors. The basic procedure is that when you buy you plane ticket, you let the airline know that your child will be flying as an unaccompanied minor. And in doing so, the airline will assign one or more of their flight attendants to "chaperone" your child during the flight and help them transfer to other planes if necessary. The airline will likely require the name of the ski camp employee that will be meeting your child at the gate when they unload the airplane in Portland. We assign our various counseling staff to do the airport pickups, so a day or two before your child's flight, you would call the camp (503-337-2230) and ask us for the name of the camp counselor who will be doing that particular airport pick-up. On arrival day, our camp counselor would go thru security and wait at the gate for your child to leave the plane. At that point, the airline employee signs over your child to our camp counselor (who will have proper ID with them). We'll take your child to get his/her luggage & equipment and then load on one of the camp vans or buses for the 75-minute road trip to the camp lodge. 
#3. Once I fly into the Portland airport, where to I go to meet the camp counselors?
After you get off the plane, head to baggage claim to get your bags, skis, snowboard, etc. Then head down to baggage claim #2 and look for a table set up with our camp banner hanging from it. You'll likely find one of our camp counselors there and some other kids already waiting for others to arrive before heading to the mountain. Once we have a van load of kids ready, we'll take them to the lodge. Our counselors are pretty savvy when it comes to looking for lost campers. First of all, we look for kids with skis or snowboards. Having skis or snowboards with you in the middle of the summer makes you stand out! If it gets to the point where we can't find a particular individual, we'll first check for flight delays. Then we'll try paging them on the airport intercom system. If that fails, then we'll call the camp office and try to find out if there were any travel problems along the way, and figure out a plan based on what happened. 
#4. What's the difference between staying at "the lodges" vs. staying in "Govy"? What is a "Govy?"
Campers have a choice of where they will stay during camp. Our camp main lodge sleeps about 55 kids. And our newer Coho lodge, sleeps around 45 kids. Most of the campers will stay in one of our two on-campus lodges, but campers (during sessions 5-8 only) have the option of a housing upgrade in the town of Government Camp ("Govy" for short). Govy is about 5 miles from our camp lodge where we rent units at the Golden Poles Condos. The campers wishing to stay there, pay an additional fee. Generally we recommend that the younger kids (14 and younger) stay at the camp lodges and the older kids (15 and older) can opt to stay in the Golden Poles condos in Govy. Supervision occurs at all sites.
#5. Are ski and/or snowboard rentals available at Mt Hood?
Yes. Top notch demo equipment is available to rent from the Timberline rental shop for approximately $145-$205, depending on the performance of the package.
#6. Do you accept American Express credit cards? Discover?
In addition to accepting VISA and Mastercard, we also accept Discover Card for camp payment. We will accept an American Express, but with a 3% surcharge.
#7. Does the cost of camp include food and lodging?
Yes, the camp tuition includes food & lodging. 
#8. Does the cost of camp include getting picked up and dropped off at the Portland airport?
Our camp counselors pick up kids at the Portland airport between 10:30am and 2:00pm on each arrival day. In order for us to transport your son or daughter to camp in our camp vehicles, they need to have a flight that arrives sometime before 2:00pm. There are additional fees if you arrive or depart from the Portland airport outside the camp pick-up or drop-off times of 10:30am - 2:00pm. 
#9. Are the afternoon activities free?
Most of the afternoon activities are free including rockclimbing, kite-boarding, trampoline, field sports, challenge course, mountain biking, cliff jumping, hiking, windsurfing, softball, golf-cage, unicycle, and tennis (we have our own clay court). There is a $40 fee for whitewater rafting, and $40 for paintball.
#10. Should I bring my own tuning stuff?
We have a ski/snowboard tuning room with waxing irons, but you'll need your own tuning tools, files,wax, etc. 
#11. What are the snow conditions like in the summer?
Variable! Come prepared to ski every type of snow. Typically the snow is very firm in the morning. The snowcats usually groom the race lanes in the early evening hours, then it freezes overnight for ideal ski & snowboard racing conditions. As the morning progresses and it warms up, the snow softens. On the race lanes, the coaches will spread salt on the courses to keep the snow firm. For the mogul/freestyle skiers & snowboard freeriders, they too take advantage of the firm early morning snow to work on skills required for that type of snow. Then as the snow softens the moguls skiers begin their training in the bumps and the snowboard freeriders and freeski campers move their training to our private terrain park. 
#12. Why do some sessions cost less than other sessions?
We have less expensive sessions at the very beginning of the summer in late May, early June as well as at the very end up summer in mid to late August. We offer bargain prices those weeks to encourage more sign-ups during that period, to try and even out our sign-ups throughout the summer months. This helps us with staffing needs, and housing needs. We increase the price of camp during the really popular sessions to help pay for increased housing costs of additional condos in Government Camp.
#13. What happens on bad weather days?
On average, we might get a half dozen bad weather days on the mountain per summer. When the weather is bad (some combination of rain, snow, high wind, fog), we make EVERY effort to still get on the snow to train, even if the chairlifts are not running. We will either hire a snowcat to transport us up to the snow, or we will hike to the snow if that is feasible (typically it's close enough to hike to the snow the first half of the summer). On those very rare occasions when the weather is extremely bad and deemed unsafe to be on the mountain, we will cut our losses and give the kids some options on how they would like to spend their day including: a trip to the mall (movies/ice skating), caving at Mt. Adams, indoor paintball, whitewater rafting (if the weather is ok at the river) Rockclimbing trip to Smith Rocks in Central Oregon (typically the weather there is nice even if it's not so nice at the mountain). When most camps go home at the first sign of bad weather, we get our kids dressed for the conditions, and at least get in a partial day of training if it's at all possible.
#14. How do my kids call home during their stay at camp?
Cell phones: We've discovered that about 60% of cell phone providers do receive reception at our camp lodge, and probably even more get reception up at the ski area. And we have wifi in the camp lodge for internet communications.
#15. If you want to ship a package to my kids at camp, what is the shipping address?
U.S. Mail: Your child's name
MHSSC
PO Box 317
Government Camp, OR 97028
UPS or FedEx: Your child's name
MHSSC
93732 East Highway 26
Government Camp, OR 97028

#16. How do I e-mail my son or daughter?
Send your e-mail to camper@mthood.com and write your son or daughter's name in the subject line. These e-mails end up on the camp office computer, at which time we print them and set them on the mail table for kids to pick up to read. They won't be able to reply back to your emails on the office computer, but we do have one computer in the dining room for kids to get on the internet to check their email/facebook, etc. if they don't already own a smart phone or similar.
#17. Can adults sign up for camp any of the sessions or do they have to come during the "adults only" session?
Adults can come to camp any of our available sessions. We have adult campers in our camp just about every session during the summer. So if you are an adult that doesn't mind being in a "kid" atmosphere, then by all means, come joins us. 
#18. Do I need to bring my own bedding or sleeping bag?
No you don't. We supply the blankets, sheets and pillows.
#19. HOW and WHEN do I pay my balance due for my camp?
Balance due is one month before YOUR arrival day. You can mail us a check for the balance due (made out to "MHSSC") to:
MHSSC PO Box 317
Government Camp, OR 97028
Or you can call the camp office (503-337-2230) and pay with a credit card. We accept VISA/Mastercard/Discover card. We also accept American Express but with a 3% surcharge added on. If you paid your camp deposit with a credit card, you can request we charge the balance due on the same credit card.
#20. What is the cancellation policy at Mt Hood Summer Ski Camps?
The $50 deposit to reserve camp space is non-refundable. Camp cancellations made 30 days prior to the start of your session will receive a partial refund, your account balance less the $50 deposit. All cancellations must be submitted in writing and postmarked 30 days before the start of your session. There are NO REFUNDS after the deadline.
#21. How much spending money should I bring to camp and how can I keep that money safe?
We recommend that you bring $50 - $75 spending money per session. We have a safe to keep extra money or valuables. We HIGHLY recommend that you keep your extra money in the camp safe in the camp office during your stay at camp. Then when you need some or all of your money, you talk to the office personnel and they will get it out for you.
Rafting ($40) and paintball ($40) activities have extra fees; all other activities are part of camp. There's also a convenience store next door to the camp lodge. And kids can purchase a DVD video of the ski/snowboard training too at the end of their session.
#22. Is there REALLY enough to snow to train on in the summer? Even in August? Are you kidding me? 
Yes, there really is plenty of snow! It's hard to explain this to some people on the phone because the concept of snow skiing in the summer defies logic. And no, global warming hasn't stopped us! Yes the snowpack is more plentiful in early June than in late August, but there is still plenty left for excellent training right up until the end of summer (Labor Day weekend).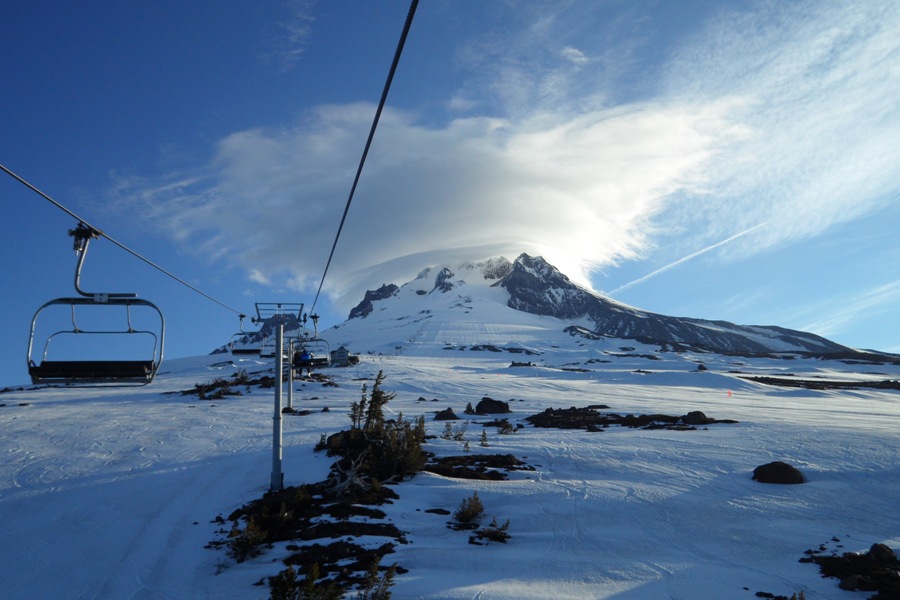 Add yourself to the MHSSC hot list!!
Give us your email address so we can send you late-breaking information about camp.