TRAVELING TO CAMP
ARRIVING BY CAR
If you are arriving by car on Sunday (the usual arrival day), you should arrive at our camp lodge between 1:00PM and 4:00PM. Please don't arrive earlier than 1PM, as we may still be cleaning the lodge/bunkrooms. If you arriving by car on SATURDAY (a day early), you should plan to arrive between 4:00 pm and 6:00 PM.
If coming from the Portland area, you stay on Highway 26 traveling east. We are about 5 miles southeast of the town of Government Camp, on the left hand side of the highway, right next to the "Top Shop" Chevron gas station.
If you are traveling up from Hood River on Highway 35, you want to take the Bend exit heading south onto Highway 26. We are about 2 miles south of where Highway 35 intersects Highway 26.
If you are traveling north on highway 26 from the Bend/Redmond area, then look for us on the right hand side of the road next to the Chevron gas station. Our lodge is the one with the green roof. Parking entrance is on the left hand side of the building.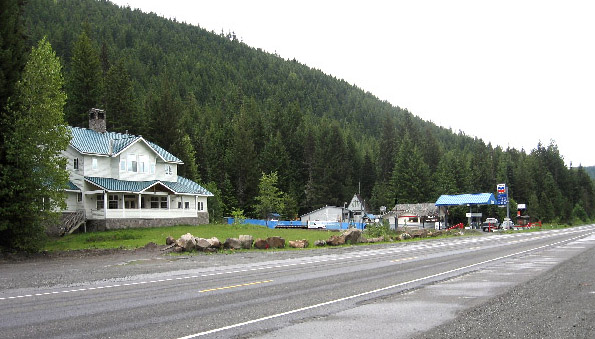 ARRIVE by PLANE
Sunday is the usual travel day coming to camp. We have our camp counselors at the Portland International Airport from 10:30AM to 2:00PM to meet incoming campers. We then load them and their equipment/luggage in our camp vans for the 75-minute drive to our lodge. We recommend that your plane land in Portland around noon. We also pick up at the bus and train stations.
Do not purchase airline tickets until you have received your camp confirmation. If you signed up on our website using the on-line application form, your initial confirmation e-mail will be sent to you. Consider that e-mail as the ok to purchase your plane tickets. If you mailed in or faxed a hard copy of a camp application or signed up for camp over the phone, then wait until we email you a confirmation package before purchasing plane tickets. Keep in mind that you want to arrive at the Portland airport between 10:30AM and 2:00PM. If you absolutely cannot arrive on Sunday before 2pm, then we recommend that you call us for other options.
DEPARTURES by PLANE
Friday is the last ski day of each session.  Saturday is the departure day.  Schedule your flight home to depart Portland International Airport between 10:30AM and 2:00PM.  If your plane leaves before 10:30AM, we will send you to the Airport via an early morning airport shuttle service.  The early morning airport shuttle service starts at  $120.
UNACCOMPANIED MINORS
"Unaccompanied Minors" are those children deemed by the airlines as too young to travel without an escort. Each airline has their own fees and policies.  The airlines will require that one of our camp employees get a security pass to meet the unaccompanied minor at the gate, at which time they release the child to our supervision.  From the gate, our staff person will take the minor to the baggage claim to get his/her bags and then over to our usual camp meeting place near baggage claim #2.   Unaccompanied Minors must arrive between 10:30AM and 2:00PM.
 If you arrive and depart during our normal airport pickup times (10:30AM - 2:00PM), there are no extra fees.  If we are required to send one of our camp counselors to accompany a departing unaccompanied minor who needs to be checked in outside our standard times, be prepared to pay $120 counselor fee plus extra airport shuttle service fees. Call the camp ahead of time if your child is being escorted.
Our counselors meet unaccompanied minors at the gate, help them get their luggage, then lead them to our meeting place near baggage claim #2.
ARRIVAL AND DEPARTURE ADDED FEES
Most of our campers that travel to camp by plane, arrive at the Portland airport on arrival day or depart from the Portland airport on departure day, between our required time of 10:30AM and 2:00PM (Pacific time). There are no additional fees for those arriving or departing between those times.
DAY EARLY ARRIVAL
If you absolutely can't find a flight that falls into that time slot, are you stuck at the airport with no way to get to camp? No, but there are some significant added travel related fees that are added to your camp costs. Arrival day added costs: Say your flight doesn't arrive on Sunday until after 2:00PM. Our camp vehicles are no longer there to bring you to camp. You can catch a airport shuttle service that will take you from the Portland airport directly to our camp lodge for an additional fee.
*If you arriving by CAR on Saturday (a day early), you should plan to arrive between 4:00 pm and 6:00 PM.
Arriving on Saturday, a "day early", is an option that many campers take advantage of. By coming to camp a day early, you can get in an extra day on the hill to freeski or snowboard and become acclimated to summer snow conditions and high altitude. The additional fee ($225) to arrive a day early does include your lift ticket for skiing/snowboarding on Sunday. We can be a little more flexible with pickup times at the airport on Saturdays. We can pick you up on Saturday as late as 6PM. In the long run, you may save money with the day early arrival plus get in an extra day of skiing/snowboarding. **The "day early" arrival is only available for the Spring and Summer sessions. You cannot arrive a day early to any of our Fall or Winter camp sessions.
If you are planning to arrive or depart at a time different than everyone else, please contact the camp office at 1-503-337-2230 for instructions.
Departure day added costs: If your departing flight leaves BEFORE 10:30AM, we will send you to the Portland airport on a airport shuttle service. Cost is $160. If you an unaccompanied minor doing this, add $120 for the cost of one of our camp counselors to travel with you, plus another $40 to cover the cost of that counselor to ride in the limo.
If you flight departs AFTER 2:00PM, there are no additional costs. You'll just be waiting in the airport longer than everybody else before your flight leaves Portland. If you have a late departing flight and you are an unaccompanied minor, then you need to pay the $120 counselor fee, which is paying for us to stick around and check you at the gate to the airline personnel.
How much extra does it cost? Use the chart below to add up YOUR additional fee:
| | |
| --- | --- |
| What additional travel fees am I paying for? | Total $$ |
| Cost of airport shuttle service one-way trip to or from Portland Airport | $160 |
| Unaccompanied minor fee to cover the cost of our camp counselor traveling with child | $120 |
| Cost of airport shuttle service for our ride-along counselor traveling with child | $40 |
| Unaccompanied minor fee with late departing flight, to pay our counselor to check you in | $120 |
| GRAND TOTAL: | |
Are there group discounts when several campers share the same added fee situations? Yes, the airport shuttle service costs can be divided, but keep in mind that the shuttle service charges additional fees for each additional person. 
Add yourself to the MHSSC hot list!!
Give us your email address so we can send you late-breaking information about camp.